ISS-LESE 2014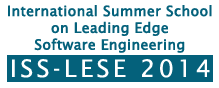 International Summer School on Leading Edge
SOFTWARE ENGINEERING (ISS-LESE 2014)
Thanks giving Message from Prof. K. Chandrasekaran!
Our Summer School concluded on 8th Saturday. We wish to convey our sincere thanks to:
All speakers in the summer school

All participants (includes people from other colleges besides

NITKians

)

All Volunteers

All those who directly or indirectly contributed to the success of this summer school.
You are welcome to give suggestions, Please contact to the coordinator kch[at]nitk[dot]ac[dot]in